Our products are made of high quality polyurethane and can be applied to any steel surface which have been proven to increase wear life, reduce down time and increase efficiency. Not only do these liners require no-bolt, no-glue or welding, they are also custom fit to each application so there is no cutting involved for the customer. All that is needed is a clean steel surface.
This Polyurethane magnetic patch or liner can be installed quickly and safely without the use of welders or bolt fastening systems.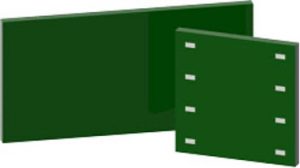 KRYPTANE® URETHANE MAGNETIC WEAR LINERS
Constructed with Kryptane® Polyurethane
Imbedded High strength rare earth magnets allow for installation using magnetic force alone
No Bolting – No Welding – No Cutting to the applied area
Eliminates the need for Hot Work permits in most areas
Stay securely in place on vibrating screens and chutes
Can be repositioned easily and safely, when time permits, for the repair to be done permanently
Can be field trimmed to fit unusual surfaces or conditions, due to the polyurethane material
Custom Size Available Upon Request
REDUCE WEAR IN CRITICAL AREAS OF YOUR OPERATION
Available in urethane and ceramic liners
Quickly and easily installed into any pattern to help reduce wear in critical areas of your operation.
Magnetic modular panels require no maintenance
No welding, gluing or bolting necessary
3/4" thick patches, perfect for covering holes in walls or chutes
Our newest product has been thoroughly tested and is now ready for release. Introducing our magnetic modular panels!
Strong rare earth magnets hold our panels firmly in place, creating the custom wear pattern that is needed for your application.
Quickly and easily install our magnetic panels, with no welding, gluing or bolting needed.
Available in a wide variety of formulations to best suit your wear needs.
Perfect for using in conveyor transfer points, screen discharge liners, chutes with high wear, screen feed liners and charge chutes.
Our panels are available in standard sizes of 6″ x 6″, 6″ x 12″, 12″ x 12″, and 12″ x 24″, with custom sizes also available.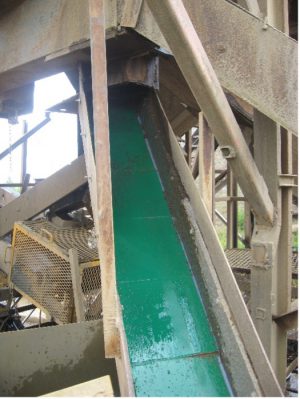 Our magnetic modular panels can be quickly and easily installed into any pattern to help reduce wear in critical areas of your operation.
Magnetic liners are available in a variety of durometers and formulas that are designed for a number of different applications. Strong rare earth magnets hold the panels in place, allowing for quick and easy install. If one panel wears out, just replace the worn section. Nothing beats the wear-resistant properties of Kryptane®, the most durable polyurethane in the industry.
Our magnetic modular panels are easy to install and require no maintenance. Our proven Kryptane® polyurethane will outlast most any other wear product available today and provide protection for your harshest hot spots in transfer points, bins and hoppers.
Thicknesses:
Sizes:
6" x 6"
6" x 12"
12" x 12"
12" x 24"
Custom sizes also available
SIZES AVAILABLE:
• Solid polyurethane panels available in thicknesses of 1 ∕2", 1", 11 ∕2" and 2" • Panel sizes: 6"x6", 6"x12", 12"x12" and 12"x24" PERFECT FOR THESE APPLICATIONS: • Conveyor transfer points • Screen feed liners • Chutes with high wear • Charge chutes • Screen discharge liners
MAGNETIC PANEL FEATURES:
• Strong rare earth magnets hold the panels in place. No welding, gluing or bolting necessary! • Panels can be placed together to easily address wear areas of any size • Our 1 ∕2" thick patches are perfect for covering holes in walls or chutes • Kryptane® polyurethane outlasts rubber and steel AR plate • Available in a wide variety of formulations • Custom sizes available upon request
PRACTICAL
Our magnetic modular panels are easy to install and require no maintenance. Our proven Kryptane® polyurethane will outlast most any other wear product available today and provide protection for your harshest hot spots in transfer points, bins and hoppers. THE EASY CHOICE Magnetic liners are available in a variety of durometers and formulas that are designed for a number of different applications. Strong rare earth magnets hold the panels in place, allowing for quick and easy install. If one panel wears out, just replace the worn section. Nothing beats the wear-resistant properties of Kryptane®, the most durable polyurethane in the industry