CONTROLLERS, INDICATORS AND TRANSMITTERS – ACCURATE PROCESS MONITORING
For a various range of process monitoring sensors Muller Beltex offers you the opportunity to select the correct controllers (ATEX), indicators and (wireless) transmitters. For a PT100 sensor head or DIN rail transmitters are generally used. These convert the analogue signal to a 4-20mA signal. When you prefer a temperature sensor which allows you to read real-time data, we offer an ATEX certified controller. Involve us at an early stage for finding the right solution.
CONTROLLERS, INDICATORS CONVERTERS & TRANSMITTERS
For various safety monitoring systems Muller Beltex offers you to select the right controllers,indicators and transmitters. think of universal indicators,temperature controllers and transmitters for temperature measurement. Involve us at an early stage to find the right solution for your specific application.
PROGRAMMABLE HEAD TRANSMITTER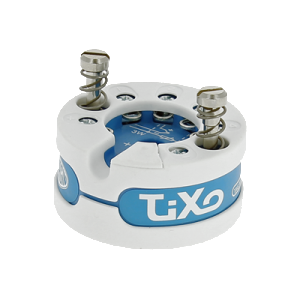 Programmable transmitter
TiXo Series – Head mounting – ProgressX family
Input: RTD100 2,3 or 4 wires
Output: 4-20mA
Accuracy: <0.1% F.S. or <0.5°C
Models: Standard and ATEX
Configuration With PC (Microsoft Windows only)
EC Type examination certificate number:
INERIS 08ATEX0004X & 08ATEX3004X
ATEX classification:
Ex ia IIC T6/T5/T4
Ex iaD 20 T85/T100/T135 °C
II 3 G Ex ic IIC T6/T5/T4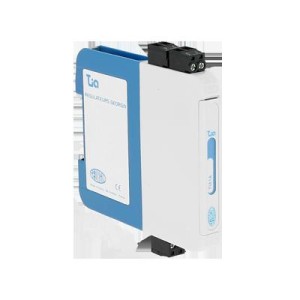 Programmable converter
Tia 1 series – DIN rail mounting – ProgressX Family
Input: RTD100 2 or 3 wires
Output: 4-20mA
Galvanic isolation: 1500V AC
Accuracy: <0.1% F.S. or <0.5°C
Models: Standard and ATEX
Configuration With PC (Microsoft Windows only)
EC Type examination certificate number:
INERIS 13ATEX0015X
IECEx conformity certificate:
INE13.0022X
ATEX/IECEx classification
II 1 G Ex ia IIC T4 Ga
II 1 D Ex ia IIIC T135°C Da
PROGRAMMABLE CONVERTER – TRIP AMPLIFIER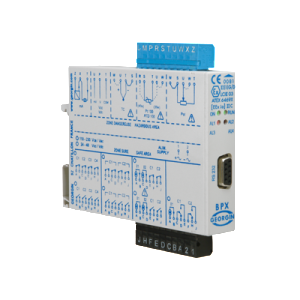 Programmable converter – Trip amplifier
BPX Series – ProgressX family (UI)
BPX are designed to convert RTD100, thermocouples, potentiometer, mA, mV and other standardized current signals coming from the hazardous area to the safe area.
Input: Universal
Output: up to 2 4/20mA outputs and 4programmable thresholds depending on model
Supply: VAC ou VDC
Red LED for alarm state, and green LED for presence of voltage
Installation: Safe area
progressX Manager for programming the type of input, relays state in case of fault, hysteresis and alarm temporisation, 4/20mA output
Possibility for line measurement and outputs simulation
Options:
» Hart signal transparency with the barrier
» Screw terminals
» RS232 programming cable and USB / RS232 converter
» ACCDIVBX power supply cables
» Ex d enclosure – RTPE9-DIN or other Ex d enclosure
EC Type examination certificate number :
LCIE03 ATEX 6469X
Zener barrier
BZG series
Zener barriers are designed to limit energy which may appear in hazardous area.
Mounting: simple on DIN rail
Models: simple or double
Version: 1 or 2 channels on 13mm tightness
Installation in safe area or in Zone 2 in a IP54 housing (nA type of protection)
Front panel with removable label holder
Options:
» Current flow signaling LED on the front
» Barrier / DIN-rail isolator
» Ex d housing – RTPE9-DIN or other Ex d / Ex e enclosure
EC Type examination certificate number :
INERIS 11 ATEX 0024 X
IECEx conformity certificate :
INE 11.0009X
ATEX/IECEx classification :
II (1) GD [Ex ia Ga] IIC or [Ex ia Ga] IIB or [Ex iaD Da] IIIC
II 3 (1) G Ex nA [ia Ga] IIC T4 Gc
II 3 (1) G Ex nA [ia Ga] IIB T4 Gc
Signal conditioners
SG Series – galvanic isolation module 6mm thickness
Mounting: rail DIN ou rail alimenté
Inputs: current, voltage, Pt100, TC sensors…
Outputs: 4/20mA, current, voltage
Power supply: 16.8 to 31.2 Vdc
Consumption: 0.8 to1.2W
Accuracy: <0.1% of full scale
Configuration: by DIP switches or USB using GEORGINSet* software
Isulation: >3KV between input, output and power supply
Models:
GT 45000 – Temperature transmitter
GS 75000 – Shunt resistance isolation amplifier / voltages in mV
GN 25000 – Isolation amplifier
GN 21000 – Signal separator / repeater
GH 11000 (1 channel) and GH 11020 (2 channels) – Isolator powered by the loop
GC 52500 – HART transmitter power supply
GB 64000 – Bipolar isolation amplifier
Universal indicator
GSI 48 Series – Universal input – Panel mounting
Process indicator for analogue signals. Displaying a process, temperature, load cell or potentiometer signal in engineering units.
Mounting: 48x96mn panel
Input: Process, RTD100, Thermocouple
Display: 4.5 digits
Supply: 10-70 Vdc and 21-53 Vac or 85-260 Vac and 100-300 Vdc
Options:
» Alarms (2x, 4x)
» 4…20mA output
» Workshop configuration with test report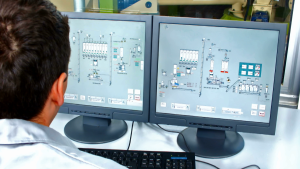 WE ALSO OFFER ENGINEERING, ADVICE AND SUPERVISION SERVICES
Muller Beltex likes to share their knowledge as a consultant for your specific issue. Engineering, advice and supervision services to get your bulk handling and processing equipment running optimally. By involving us at an early stage, we can offer you the right solution based on our broad experience and know-how.